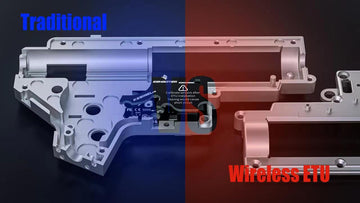 With the continuous development of the Airsoft industry, more and more manufacturers will install ETU when producing new Airsoft replicas that players can be experience more functions than traditional mechanical triggers. ETU is simple in function and economical thus it becomes one of the favorite addon by manufacturers.  However Airsoft players are not satisfied with this, more and more players wants to upgrade their replicas by more functions and better performance which can bring them more experience and fun. Since then, they set their sights on the Smart ETU.
In the beginning, the main purpose for players and manufacturers to use ETU was to prevent the trigger contacts from wearing out.  Standard AEG (without ETU) used microswitches as switches for the high-current energization of battery-operated motors.  Contact wearing is caused by this high current, which creates a voltage spark between the trigger contacts when the Airsoft starts or stops firing.  Voltage sparks can damage the contacts with the continuous usage.
Gearbox using traditional mechanical switches Photo by:Airsoft insider
At present, 11.1V batteries are equipped by the manufacturers, you need to repair your favorite gun sooner or later without using ETU in Airsoft. This means it affects the cost, satisfaction and wastes a lot of precious time.
G&G Modular ETUs  Photo By:Raven Airsoft
Reliable and non-wearing trigger contacts are just the beginning of ETU development, there are two major types of Airsoft ETU in the market which are normal ETU and smart ETU.  A normal ETU is only a basic unit designed to improve Airsoft's safety and performance while the smart ETU is likely a motherboard with all integrated functions, this is a single unit with advanced features that offer you an edge in the game, such as faster trigger response sensitivity, higher rate of fire and even programmable bursts model.
Perun ETU++ Mosfet Photo By:ASTKilo23
At present, most smart ETU manufacturers mainly produce ordinary ETU and smart ETU that are suitable for the V2 and V3 gearboxes.  The advantages of those smart ETU produced by them are mainly in the Pre-Cocking function, ROF control function, trigger delay function, active braking function, and cycle detection.  Now we use Eshooter's smart ETU Kestrel V2 as the demonstration to introduce the detail features of smart ETU
Smart ETU Advantages
Pre-Cocking: This will give the player's Airsoft a trigger response as similar as a real gun's response.  It allows the gear to compress the ladder piston to the player's preset value after completing a cycle before firing the next shot, resulting in a significantly faster-triggering response
ROF Control Function: This allows players to avoid unnecessary gear wearing caused by an excessively fast firing rate when using a higher specification battery, and enhances the overall stability of the gearbox.
Trigger Delay: This allows the player to set the timing of the gear's firing response after pulling the trigger, simulating a magazine change or recoil delay. 
Active Braking Function: The braking power of the motor will be adjusted according to the player's needs, the braking value is selected manually, and it stops the piston at the corresponding position, thereby eliminating unnecessary pressure and increasing the service life of the gearbox and its parts.
Cycle Detection: The gear sensor in the ETU detects precisely where the cycle should end, and even the shortest trigger action will produce at least one full cycle.  Since optical sector gear sensors count each tooth of the gear, the following types of gears can be used: DSG, high-speed , and standard gears.
Besides, Eshooter Kestrel V2 has more than common functions in smart ETU such as a pre-cocking function, ROF control function, trigger delay function, active braking function, and cycle detection functions.  It also has real  magazine, low battery warning , sleep mode, 2 fuses installed on the circuit board, and a second fuse, an external physical fuse that supports up to 25A current, these functions will improve the user experience greatly.  It also uses Bluetooth technology, all settings can be done and modified by using the corresponding Eshooter mobile APP.
This is undoubtedly a more cost-effective option compared with other smart ETU and even unique features! As we all know, most of smart ETU are not cheap, which makes many players hesitate to try.   Kestral V2 maintains high quality in a competitive price. This is a good news to all Airsoft players without doubt