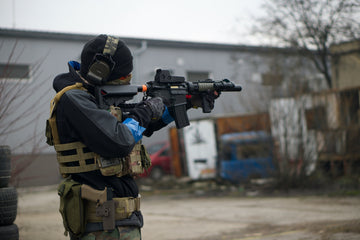 Are you new to airsoft and looking to build your first loadout? You're in the right place! In this guide, I'll share everything you need to know about creating the ultimate beginner's airsoft loadout, along with some game-changing recommendations and authoritative external resources. Let's dive in!
Airsoft Guns for Beginners
As a beginner, you'll need a reliable, budget-friendly airsoft gun. In this section, we'll delve into various options for pistols, rifles, and shotguns, along with the extra gear you'll need for a seamless airsoft experience.
Pistols, Rifles, and Shotguns
When selecting your first airsoft gun, consider entry-level options under $200 that balance performance, durability, and cost. Here are some excellent choices for beginners in each category:
Pistols
Rifles
Shotguns
Extra Gear
Remember to invest in essential accessories like extra magazines, speed loaders, batteries, and chargers to ensure uninterrupted gameplay. Browse online stores like Evike and Airsoft Megastore for a wide selection of airsoft gear and accessories.
Video Reviews
Before making a purchase, watch video reviews and gameplay footage to understand the performance of different airsoft guns better. Channels like Airsoftology and USAirsoft offer in-depth reviews, comparisons, and insights to help you make an informed decision.
Essential Protective Gear
Before jumping into the world of airsoft, prioritizing safety is crucial. In this section, I'll cover the must-have protective gear every beginner should consider.
Eye Protection
Your eyes are your most valuable asset, so invest in high-quality goggles or masks. Look for ANSI Z87.1-rated options, as these have been tested for impact resistance. Check out WoSport Tactical Anti-Fog Goggle ********and Evike Annex MI-7 ANSI Rated Full Face Mask for reliable choices.
Helmets, Gloves, and Pads
Head protection is crucial, especially for outdoor games. Helmets prevent head injuries from falls or stray BBs. Gloves protect your hands from abrasions and impacts, while elbow and knee pads offer additional support and protection. FASTFIT® COVERT TACTICAL GLOVES and Blackhawk Advanced Tactical Knee Pads V.2 are excellent starting points.
Face and Ear Protection
Remember face and ear protection. A full-face mask or a combination of goggles and a lower-face mesh mask will protect your nose, mouth, and ears from stray BBs. Check out SCREAM Airsoft Mask for a popular option.
Tactical Equipment
Tactical gear enhances your in-game performance, keeps you organized, and makes you look the part. Here's what you should consider:
Vests, Plate Carriers, and Chest Rigs
These items help distribute weight evenly and offer a platform for attaching pouches and other gear. Consider options based on your budget and preferences. Condor Outdoor and 5.11 Tactical offer a wide range of options to suit any budget.
Holsters
A reliable holster keeps your sidearm secure and easily accessible. Choose from drop leg, belt, or MOLLE mount options based on your preferred playstyle. Safariland is a trusted brand for holsters.
Pouches
Magazine, radio, and utility pouches keep essential items within reach. Consider MOLLE-compatible options for maximum customization. Maxpedition offers a variety of bags for different needs.
Hydration Solutions
Staying hydrated is vital, especially during extended games. Consider water bottles, hydration packs, or carriers for convenient access to water. CamelBak provides reliable hydration solutions.
Airsoft Clothing and Camouflage
Now let's talk about clothing. The right attire keeps you comfortable, agile, and camouflaged in the field.
Camo Patterns for Different Environments
Choose camo patterns based on your local environment to blend in effectively. Options include Woodland, Multicam, Digital, and Desert patterns. Camo Guide by NOVRITSCH can help you make the right choice.
Combat Shirts, Pants, and Boots
Invest in high-quality combat shirts, pants, and boots designed specifically for airsoft. These provide durability, comfort, and additional protection. Brands like Crye Precision and 5.11 Tactical offer great options.
Optional Extras
Consider adding knee pads, tactical gloves, or other extras to further enhance your loadout. Browse Mechanix Wear for a wide range of gloves and other tactical gear.
Other Useful Extras for Your Loadout
Here are some additional items to consider adding to your loadout:
Communication Devices
Walkie-talkies or radios can enhance team coordination during games. Check out Midland Radio for reliable options.
Storage and Transport Gear
Invest in gun bags or cases to safely transport and store your airsoft equipment. Brands like VISM offer a range of storage solutions.
Tips for Assembling Your First Airsoft Loadout
Common Beginner Mistakes to Avoid
Research and plan your purchases to avoid wasting money on low-quality or unnecessary gear.
Must-Have Essentials
Focus on essential protective gear, a reliable gun, and basic tactical equipment before splurging on extras.
Weight Distribution and Load-Bearing Setup
Find a comfortable, functional load-bearing setup that works for you, and distribute weight evenly for optimal performance.
Enhance Your Airsoft Experience with Eshooter Products
Elevate your airsoft game with these innovative products from Eshooter:
Eshooter Kestrel V2 Airsoft ETU for V2 Gearbox
Upgrade your AEG's performance with the Kestrel V2 ETU. It offers unparalleled customization, trigger response, and ROF.
Eshooter Sentry 2 Airsoft Target
Revolutionize your training with the Eshooter Sentry 2 Reusable Airsoft Target. Its auto-reset design, RGB lighting, and portability make it the ultimate training accessory.
Final Thoughts and Resources
Assembling your first airsoft loadout can seem daunting, but with this comprehensive guide, you're well-equipped to make informed choices. Remember to prioritize safety, invest in quality gear, and continuously learn and improve.
For more information and resources, consider visiting the following websites:
AirsoftC3: Find local airsoft fields, teams, and shops.
Airsoft GI: A comprehensive online store for airsoft guns and gear.
Airsoft Society: A popular forum for discussing airsoft topics and connecting with fellow players.
Now, get out there and enjoy the exciting world of airsoft!