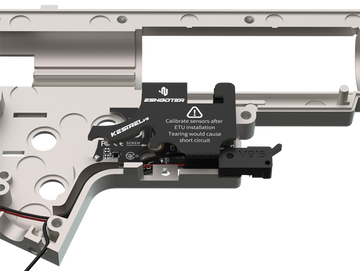 Airsoft Electronic Trigger Unit
KESTREL
Kestrel is designed for professional and advanced airsoft players. A Kestrel ETU controls the electronics & reads the mechanics of your gearbox to deliver a high-quality experience when shooting.
Sale price
$99.00 USD
Regular price
$129.00 USD
Sale price
$99.00 USD
Regular price
$129.00 USD
Explore Eshooter Kestrel
DISCOVER OUR POWERFUL FEATURES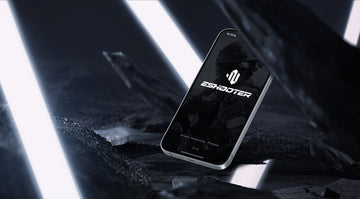 ESHOOTER APP
The Eshooter app is the perfect way to control your Kestrel, whether you're using it in single-shot mode or high-voltage automatic Pre-Cocking. Use our unique ROF control function to increase the fire rate without worrying about running out of ammo. With over 10 different settings that can be adjusted via simple touch controls. We've even included a diagnostics feature so you can keep on top of any issues with your gun as well as BB counters and telemetric data information from your shooting sessions.
Download Now
Brushless Motor

The first and most important thing is we support brushless motors and high-speed/high-torque motors right now! You can test it and let us know if it's amazing!
Active Brake

The adaptive active brake function can avoid gear instability, ensure the piston stops in the front position to decrease unnecessary stress, and increase the gearbox and inside parts' service life.
Magazine Capacity Customize

The selectable magazine capacity from 30-100 BBs can be more convenient for your practice, remember to train your speed of changing magazines!
Smart Fuse

Kestrel is designed with 2 fuses, a mini smart fuse, and an auto-fuse that supports a maximum of 30A. They can protect the battery, motor, and controller even if the battery is connected wrong. Besides, it could protect MOSFET from overheating, overload, and short circuits, and prevent motor and battery damage if your Airsoft is jammed.
Pre-Cocking Adjustment

One of the most exciting new features is the ability to adjust the pre-cocking mode with 100 levels of precision. This allows you to fine-tune your KESTREL V2's performance to your exact specifications, giving you a competitive edge on the field.
How to use it?
Step 1
Installation of ETU to the gearbox
Step 2
Installing the battery
Step 3
Download the App
Step 4
App Dashboard