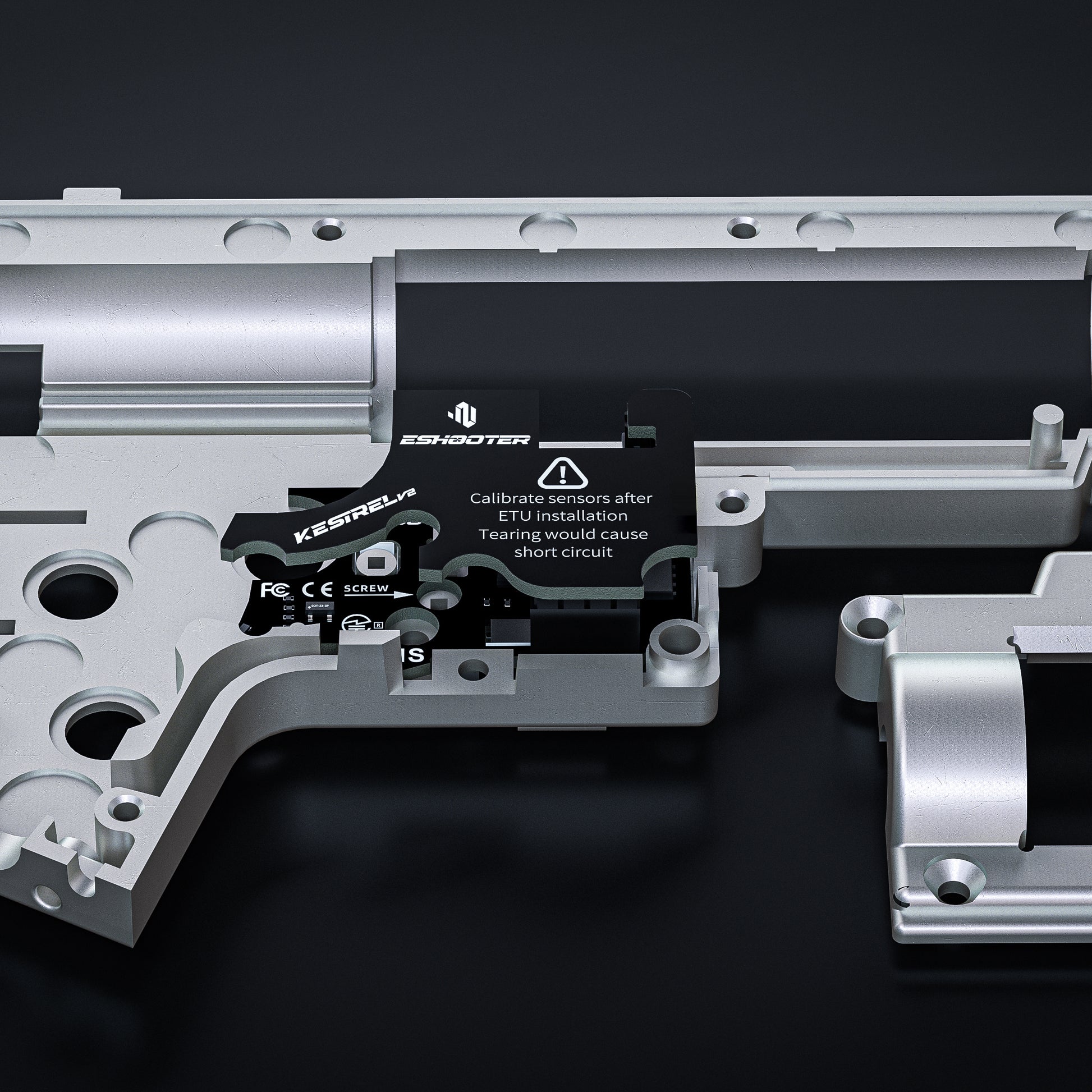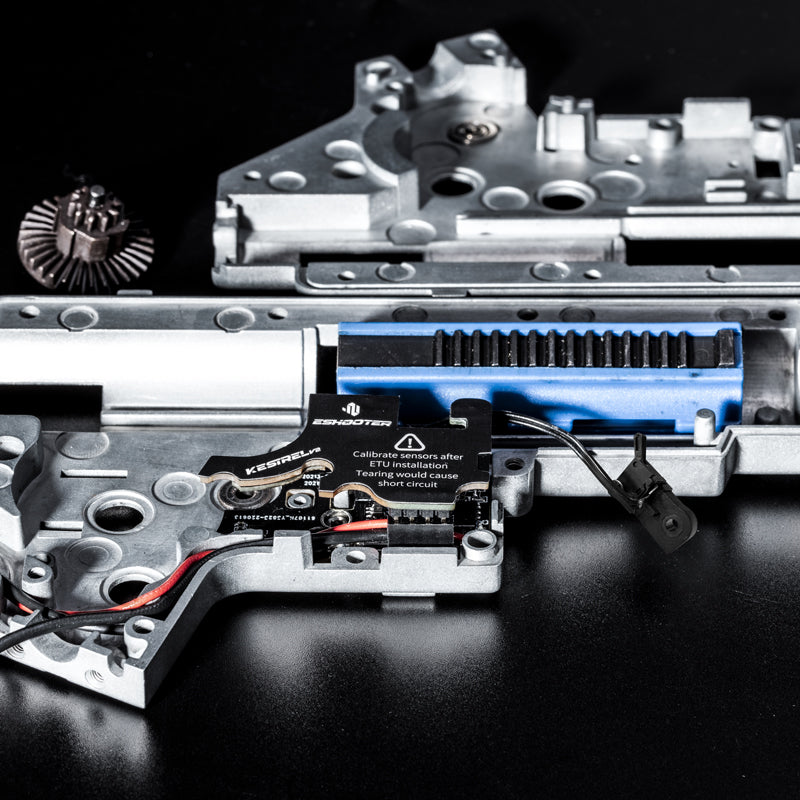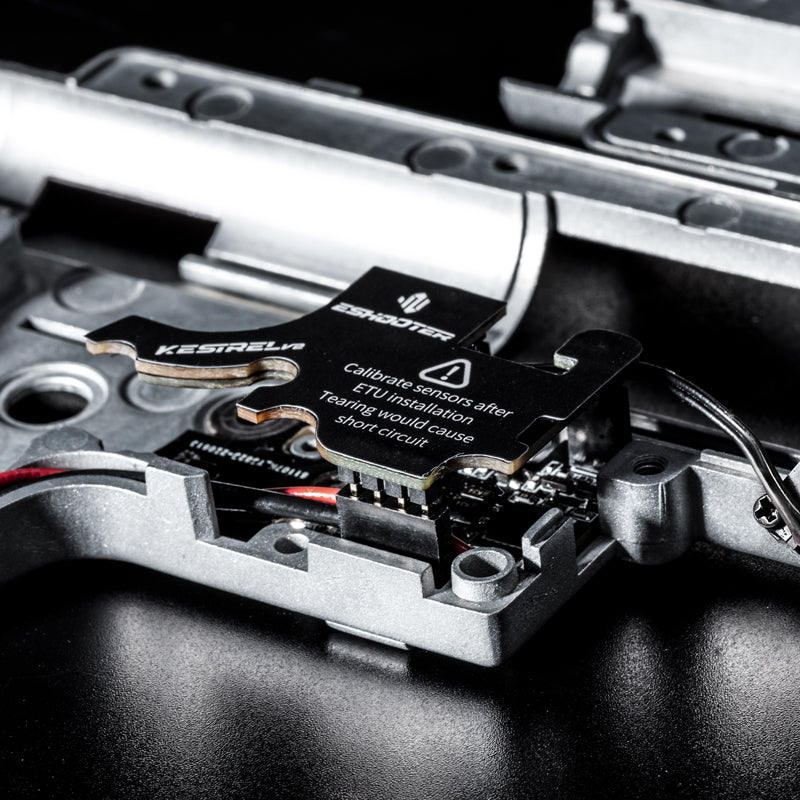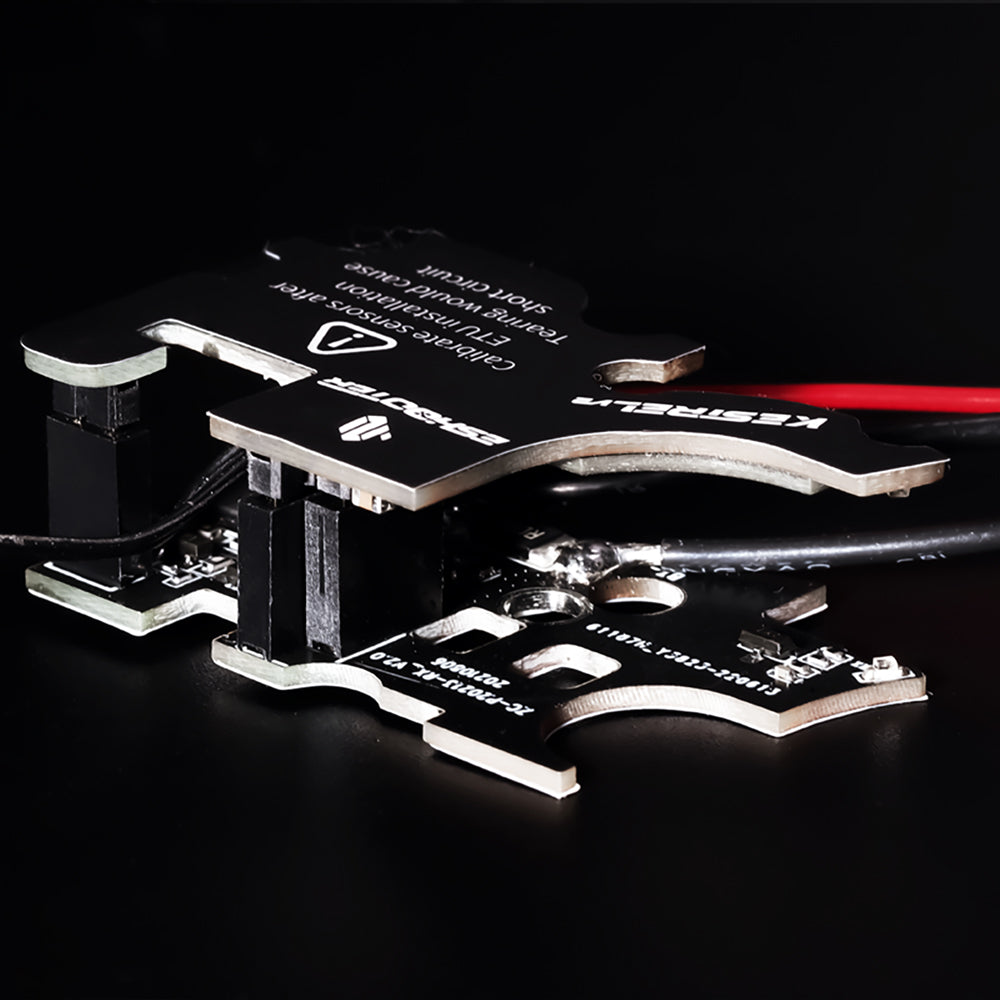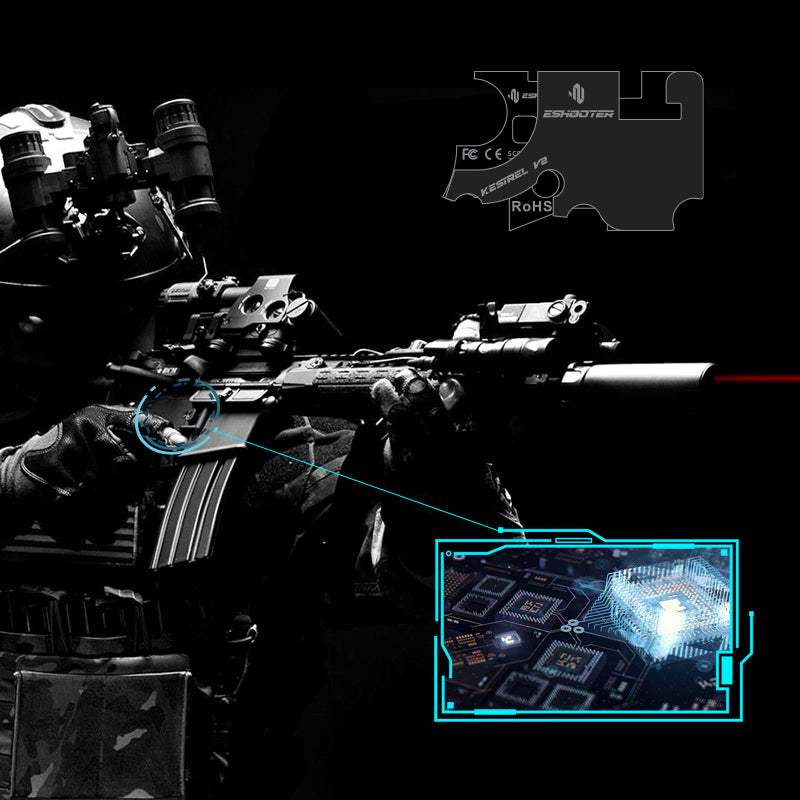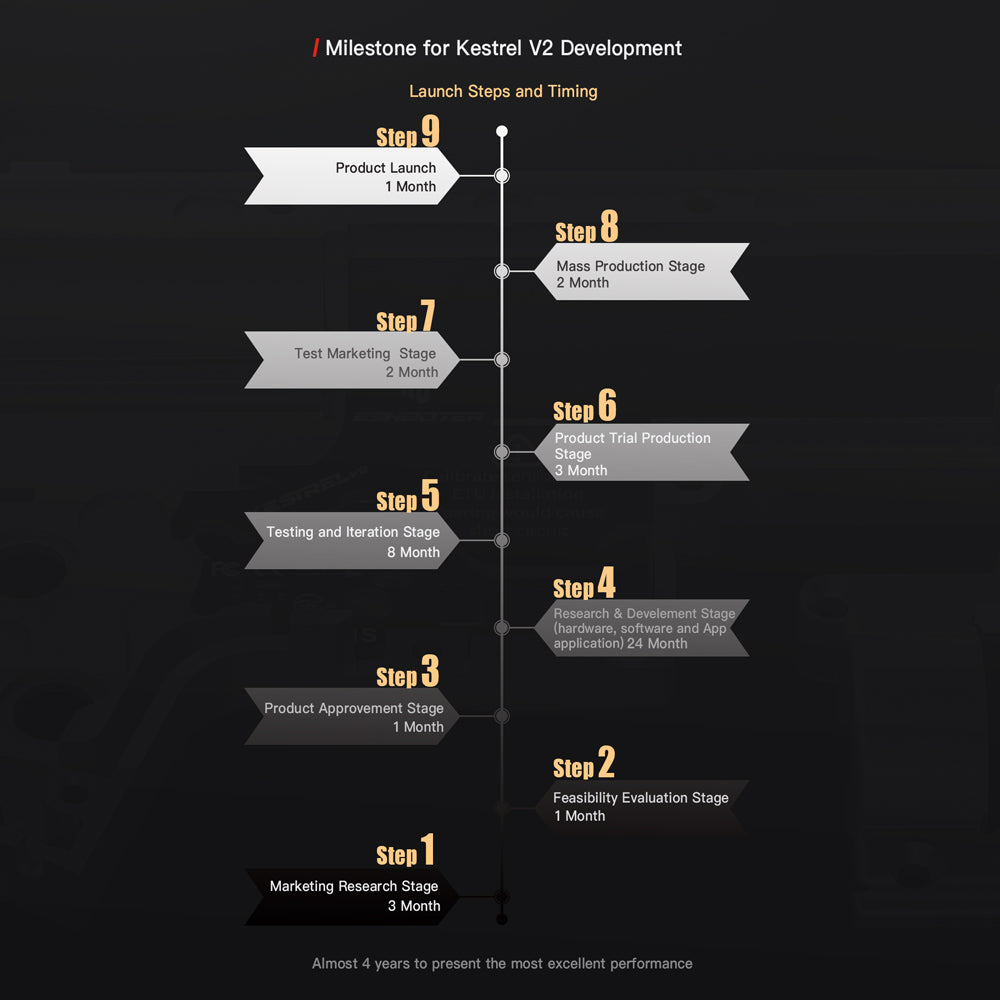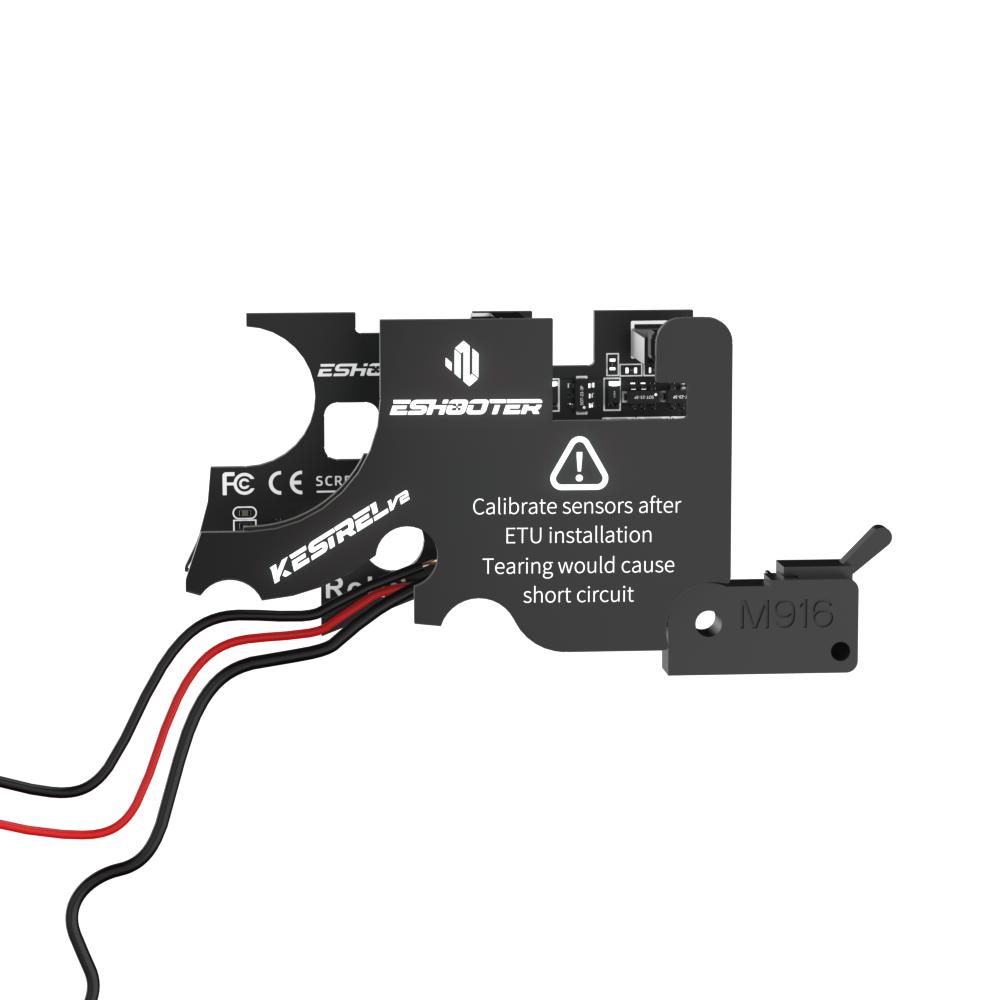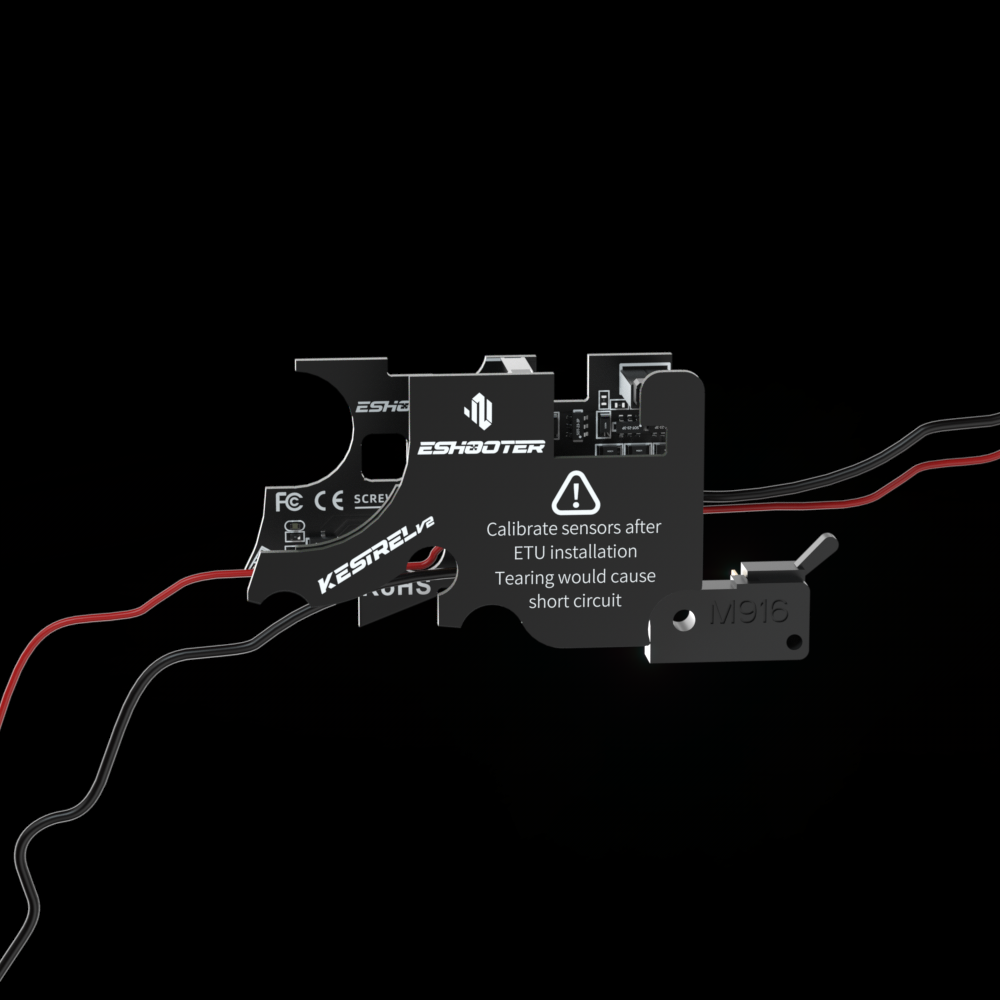 Eshooter Kestrel V2 Airsoft ETU for V2 Gearbox
Sale price
$99.00 USD
Regular price
$129.00 USD
Kestrel V2 ETU is compatible with the standard Tokyo Marui V2 gearbox. It can make your AEG much smarter, more reliable, and faster in response. You can customize AEG's shooting parameters by connecting the "Eshooter" App to experience a different shooting Journey.
Pre-cocking Adjustment. Adjust pre-cocking mode with 100 levels of precision for fine-tuned performance with all modes, enhancing trigger response.
Support Brushless Motor. Supports brushless and high-speed/high-torque motors.
Trigger Sensitivity Adjustment. 5 sensors detect trigger movement to control sensitivity, no disassembly is needed, Eshooter App wireless connection to adjustment.
Selector Modes. 2 selectors offer various modes, including SAFE, SEMI, BINARY, Burst, AUG, AUTO, and Sniper, for customizable shooting experiences.
Magazine Shot Counter. Simulates a real magazine function with 30-100 rounds, enhancing the real gameplay experience.
Personalized Settings. Save up to 5 personalized settings with the app, and change the device name for personalization.
ROF CONTROL: It allows you to adjust AEG shot speed to get your preferred ROF, even if your battery volume is very high.
Sensor Calibration. Provides calibration function for optimal performance and accuracy.
Battery Protection. Monitors voltage to prevent LiPo/LiFe batteries from over-discharge, App sends a low battery warning.
Active Brake. Adaptive function to avoid gear instability, ensure piston stops in front position, increase gearbox and inside parts' service life.
Cycle Detection. Detects cycle finishes with the gear sensor, choose DSG, HSG, and standard gear.
Firmware Update. Remotely update the firmware through Eshooter App, which supports free OTA service.
Smart Fuse. Designed with a mini smart fuse and auto-fuse, protects the battery, motor, and controller, prevents MOSFET from overheating, overloading, and short circuit, and protects the motor and battery from damage.
Sleep Mode. Goes to sleep mode after an hour of idle time, prevents battery discharge, and reconnects when you re-plug the battery. Supports long standby time in the MILSIM game.
MOSFET. Targets energy from the battery directly to the motor, increasing ROF and trigger response.
Locked Rotor Protection. Active protection when gear and motor work out of order prevents gearbox damage.
Sniper Delay Mode. Increased interval firing times of 0.5s, 1s, 2s, or 3s for more control and accuracy.
Most Eshooter products have stock now, all orders will be shipped out to you within 2 working days.
15-20 Working days can arrive in most countries. You can track your order anytime when the package is shipped out.
Details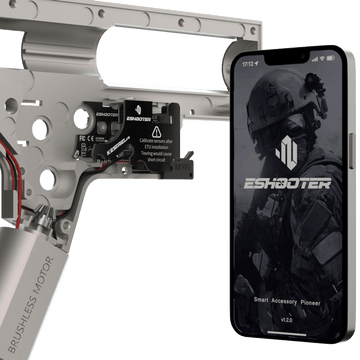 Support Brushless Motor
Highly efficient, durable, and reliable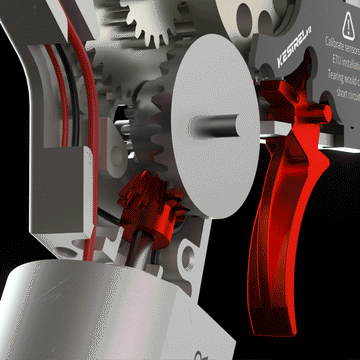 Active Brake
Increase gearbox and inside parts' service life.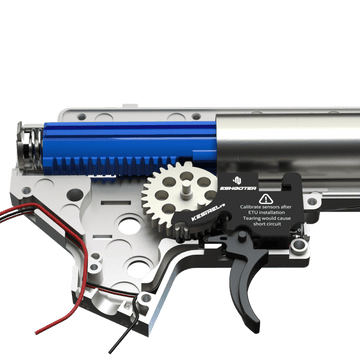 Pre-Cocking
Enhancing trigger response.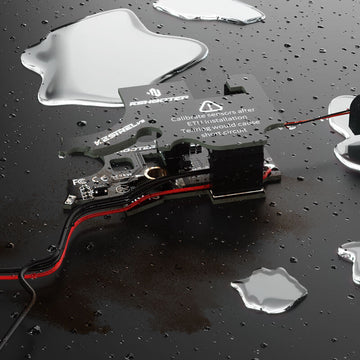 Surface Conformal coating
Freedom from adverse environmental influences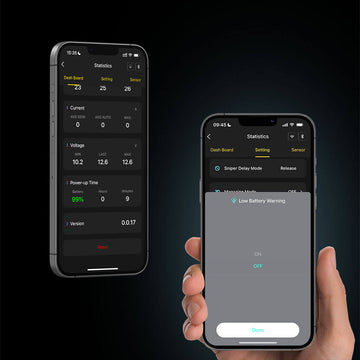 Battery Protection
Protection against Over-Discharge of the Battery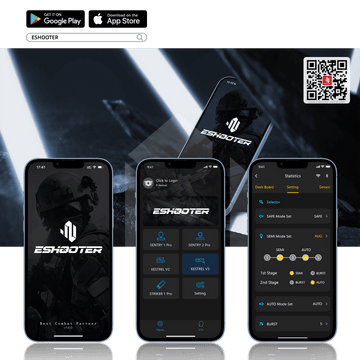 Eshooter APP
Download the app to experience all the features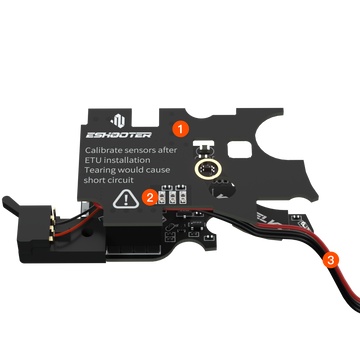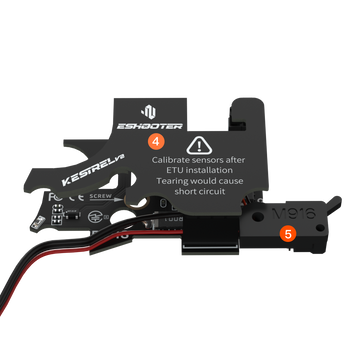 1
Base plate - The sturdy foundation of the ETU system for reliable performance.
2
Sensor - Enables precise and consistent trigger control for smooth shooting.
3
Power cord - Connects the ETU to a reliable power source for optimal performance.
4
Top plate - Houses electronic components in a lightweight and compact design for easy maintenance.
5
Magazine button - conserve ammunition and streamline reloading.
Specifications
Voltage Range:
3.75 - 17V
Dimensions (L/W/H):
47.4 x 28.7 x 13.5(mm)