Airsoft Introduction
Maximize Your Airsoft Experience with Eshooter KESTREL V2 - V29 Version!
by Aaron Eshooter on Mar 03, 2023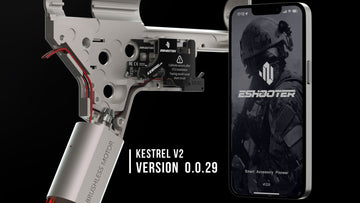 Airsofters!
Get ready to upgrade your AEG with the latest version of Eshooter, the app for KESTREL V2!
Eshooter APP download/update link:
We've added a slew of new features that will enhance your airsoft experience!
Pre-cocking Adjustment. One of the most exciting new features is the ability to adjust the pre-cocking mode with 100 levels of precision. This allows you to fine-tune your KESTREL V2's performance to your exact specifications, giving you a competitive edge on the field.
Personalized Settings. Personalization is key, and now you can save up to 5 personalized settings with the app. Change your device name from the default "aces0001" to something that reflects your personal style, such as "James Bond".
Support Brushless Motor. The first and most important thing is we support brushless motors and high-speed/high-torque motors right now! You can test it and let us know if it's amazing!
Sniper Delay Mode. Sniper mode has been improved to allow for increased interval firing times of 0.5s, 1s, 2s, or 3s. This means that you can set the time between each shot fired, giving you more control and accuracy on the field.
Magazine Capacity Customize. the selectable magazine capacity from 30-100 BBs can be more convenient for your practice, remember to train your speed of changing magazines!
Sleep Mode Option. We've also added a sleep mode switch that supports long standby time in MILSIM scenarios. This is a game-changer for players who need to conserve their battery life during extended games.
Magazine Button Detection. Finally, we have added magazine button detection in Sensor Test Mode. This will help you ensure that your magazine is properly seated and functioning before you hit the field.
With these new features, Eshooter for KESTREL V2 is more powerful than ever before. Download it today and take your airsoft game to the next level!
Eshooter APP download/update link: