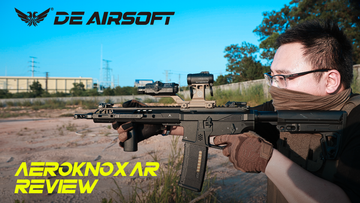 DE Airsoft recently released a new product AX15 to the market, which has been long anticipated by lots of airsoft players ,especially DE airsoft fans can't wait to experience it, so we revealed some information about it's design and performance here to help them to know more about it.
The prototype of DE Airsoft AX15 is an AR kit made by AEROKNOX in US. Besides, which has equipped with a new generation ETU,which is also a highligh point for this product. Definitely, the development of AEROKNOX company is not today's topic, so we will not go into details here. We will pay our attention back to DE Airsoft AX15. 
First of all, DE Airsoft uses an full-metal upper and lower receiver, the weight of the gun body is comparable to a real gun and the lettering of AEROKNOX is restored by laser engraving. The whole gun is sturdy and durable. DE Airsoft reprints AEROKNOX's 10.5-inch handguard. Also, the handguard adopts a hollow-caverd design to reduce its weight and make the whole gun looks more coordinated.
Moreover, the outstanding feature of the handguard is Picatinny rail is removed at the front end directly and a sunken design is adopted. A grid of M-LOK attachment is preserved to help shooter will not be blocked by the auxiliary hand when the C clamp grip is used. It also can be a good place to put wepaon light switch, and the effect will be better with rail cover of AEROKNOX. 
Additionally, another feature is  worth to  mention here is  AX15 use the Ambi selector ,which enables shooter to operate the gun conveniently  when shooting with alternate hands. Also, AEROKNOX uses a large grip angle instead of the traditional A2 type grip angle,which is very ergonomic and the surface is cutted out groove which could provide a better firm grip and  make you gun looks distinctive.
The last but the most important point is DE Airsoft AX15 is equipped with Eshooter Kestrel V2 ETU. Which belongs to the new generation ETU and integrates MOSFET and Bluetooth function together . Compared with previous generation which is no longer use trigger and selector to adjust shoot mode.  You can personalized the shooting parameters by connecting "Eshooter" App to experience various shooting modes and make your gun much smarter, more reliable and faster response.