Airsoft Introduction
Double Eagle UTR45: The Ultimate Airsoft SMG Upgrade!
by Aaron Eshooter on Feb 28, 2023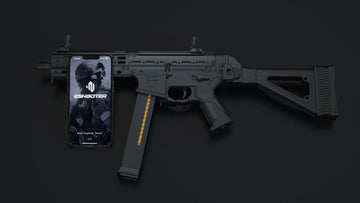 Looking for a stylish and affordable airsoft replica imitation firearm? The Double Eagle UTR45 is a perfect choice. This SMG has been creating a buzz in the airsoft community with its advanced features and unique design.
In this review, we'll explore what makes the UTR45 stand out from other airsoft guns on the market and what an important upgrade for it will be.
Distinctive Style and Advanced Features
In the past times, the UTR45 is a fusion of the best features of the UTR556 and other Double Eagle FALCON EFCS series AEGs, with the addition of a multi-position side folding stock and SMG-style straight magazines. Its knurled thread protector and 14mm CCW male threading make it possible to attach suppressors or tracer units, adding extra style to this already eye-catching gun.
High-Quality Materials and Monolithic Upper Receiver
The UTR45's upper receiver is made of high-density fiber-reinforced nylon, a material commonly used in much more expensive airsoft guns. The receiver's monolithic construction with a 35cm total length and 20mm Picatinny rail allows you to mount any accessory you want, including holographic sight magnifier combos. Out of the box, the UTR45 comes with flip-up iron sights on its upper rail, which provide a front blade and a rear multi-aperture.
Alloy Reversible Charging Handle and Unique Negative Space Attachment System
The alloy reversible charging handle on the UTR45 can be easily installed on either side of the gun, and it can be removed quickly by pulling it out. The UTR45's unique negative space attachment system, punctuated by vent holes that mimic the shape of the attachment slots, is compatible with the included rail sections and rail covers. With the 20mm Picatinny rail sections installed, you can mount any accessory you want.
Multi-Position Side Folding Stock and Air Cushion Inner Barrel
The UTR45's multi-position side folding stock provides side-folding functionality for storage or shooting in a compressed stance, with seven positions of adjustment to suit your body type and loadout. The stock's adjustable cheek riser, multiple sling mounting options, and rubber butt plate with linear texture make it a comfortable and repeatable shooting position. The air cushion inner barrel prevents interference with accuracy by encouraging a consistent air cushion around the BB.
THE UPGRADE: Eshooter Kestrel Electronic Trigger Unit
The new upgrade UTR45 will feature
Kestrel V2 ETU
in the version.2 gearbox.
This Kestrel V2 fire control system is designed to be used with phone apps, you can check every data of your gun easily on the Eshooter App.
It also provides options for the brushless motor, and pre-cocking can be adjusted in 100 gears, trigger sensitivity 5-step adjustment, free OTA upgrade, as well as various wiring and battery protection features.
The Real Shot of UTR45 Equip with KESTREL V2 ETU
Conclusion
The Double Eagle UTR45 is a high-performance and innovative airsoft SMG that stands out from other guns in the market. Its unique style, monolithic upper receiver, high-quality materials, reversible charging handle, negative space attachment system, multi-position side folding stock, battery compartment, and air cushion inner barrel make it an excellent choice for airsoft enthusiasts. With an affordable price point, the UTR45 is a formidable competitor to higher-end manufacturers. If you're looking for an innovative and high-performing airsoft gun, the UTR45 with Kestrel V2 ETU is a perfect choice.